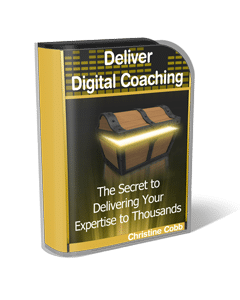 If you haven't heard, digital coaching is on the rise. It's quickly becoming one of the preferred tools for busy consultants to develop an Internet strategy with the goal of making their business more successful, profitable and efficient.
I recently became aware of a new program, "Deliver Digital Coaching" created by one of my mentors, Christine Cobb. I met Christine at the NAMS conference in Atlanta where she has been an instructor and trainer for the past few events. Her program, Deliver Digital Coaching, provides a step-by-step course to enable consultants, coaches, trainers, authors and speakers to deliver their expertise to hundreds (or even thousands!) without working harder.
Christine was kind enough to give me insider access to her program so that I could judge for myself whether or not it would be the right program for you and the other consultants, freelancers and service providers who read my blog. I spent about 2 hours last night reviewing the material, the delivery, and the overall program quality. And I was duly impressed!
If you're thinking of getting started with digital coaching, here is some exclusive behind-the-scenes insight I want to offer to you first.
Who do I think this is good for?
Service Providers
Digital Consultants and Professionals
Independent Marketing Professionals
Freelancers
What you get in the program:
Illustrated ebooks showing you step by step how to sail through each step of the program with ease
Screencast videos to look over Christine's shoulder as she shows you everything from how to install the best software to how to run a successful affiliate program
Secrets and shortcuts that get your program up and running quickly and successfully
At the end of the program, you'll have your own coaching program that allows your clients to become "members" of your program within a special members' area on your website. Your content will be locked behind a special login that only they will have access to
3 Things You Should Know Before Going Into the Program
1.This program is an investment
Deliver Digital Coaching is an investment into your business. If you need cash immediately, are facing financial difficulty, or you are going to have trouble paying the bills next month, taking this program is not in your best interest.
You'll also find that somewhere along the path to implementing your own coaching program, you're probably going to have to put down additional money (besides just the cost of Christine's program) in the way of software, outsourcing, or additional training. However, savvy professionals who have built up a profitable business are used to the concept of investing money to make money.
2. Module 2 gets pretty technical
Module 2, which covers the necessary technical execution in depth, is for sure not the sexiest part of the program. However, Christine holds your hand every step of the way, so you're not alone.
I will say that if you know your way around WordPress, this knowledge will help to understand a few of the overall program fundamentals. And if not, all hope is not lost…Christine is the right teacher for you because she is a Small Business Online Marketing Consultant and web technology consultant dedicated to helping non-techies use the Internet to grow their business. She works with small businesses owners, coaches, trainers, consultants and authors develop their brand and expand their reach on the Internet.
3. Establishing the program requires a time commitment
How many shiny objects programs, books, or courses have you bought in the last year? Have you actually implemented the information you've learned in any of them? The ideal person for this program is serious about putting together a successful digital coaching program. You must understand that you will have to invest significant time into creating a new profit stream in order for it to pay off. Packaging up your knowledge will take time…the logistics of putting it all together takes time…and marketing your new coaching service will take some time before you see the results you envision.   
Here Are a Few Additional Insights You Should Know
Marketing your new coaching program once you get it set up is going to be important. In the last module Chris provides some great tips for getting the word out.
You have to be able to teach the "basics" or "fundamentals" of a subject that will have a wide appeal
This program is best suited to someone who has an existing, healthy one-on-one coaching practice or business they want to accelerate. Or, a professional with an established practice or expertise—NOT someone trying to figure out what their expertise or specialty is
I LOVE the outsourcing tips, strategies and recommendations Chris has put together. She gives great information on how to successfully outsource parts of setting up and establishing your new program. Outsourcing is critical for growing your business as you can't do everything yourself. If you have outsourced before, you'll feel much more comfortable and won't be so intimidated if roadblocks arise while trying to set up your program
If you're interested in learning more, check out Christine's sales page about the program. Also, don't hesitate to reach out to Christine if you have any questions—she really is super friendly, approachable and generous in giving back.

Interested in SEO updates? Connect with me on Google+ today or sign up for my newsletter in the upper right column.
DISCLOSURE: I am often an affiliate for products that I recommend. If you purchase those items through my links I will earn a commission. Please know you will NEVER pay more when buying a product through my link. In fact, I oftentimes am able to negotiate a lower rate not available elsewhere. I only endorse products and services that pass my standards of excellence – and that I would recommend to a friend for their online business.
The following two tabs change content below.
Jenny Munn
Jenny Munn is an SEO Strategist who helps organizations get more leads from their website and integrate SEO into their marketing mix. She consults with in-house marketing managers, agencies, and small businesses. Jenny has taught SEO at WordCamp Atlanta, Digital Atlanta, Solo PR Summit, Business Marketing Association, Atlanta Tech Village, and various content marketing and social media organizations.
Latest posts by Jenny Munn (see all)